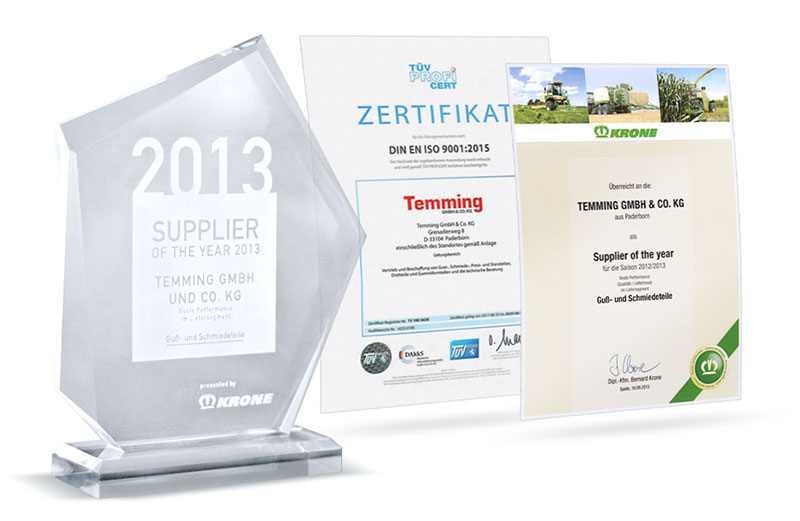 the best consulting quality for excellent results
comprehensive solutions in the entire supply chain management
streamlined processes for reliable delivery on schedule
competent project support with product development
individual service and customised concepts
Our profile:
well-versed, reliable, experienced
Temming GmbH & Co. KG sees itself as a customer-oriented, technically qualified trading company: We search for and find the appropriate manufacturer for your individual product – delivered by the arranged deadline in high-quality, cost-effectively and reliably. We fulfil this promise with your well-founded technical know-how, our decades of experience and our in-depth market knowledge. Since the founding of the company in November 1986, we have been cooperating in partnership with the industry and ensure efficient solutions in procurement management.
To date, our expertise as been in the purchasing of high-quality, yet cost-effective articles for body construction, vehicle engineering, machine engineering and toolmaking, as well as for the hydraulics industry. At present, our offer comprises a wide product range: forged parts, cast parts – particularly grey cast iron, spheroid ductile iron and cast steel – turned parts, pressed and punched parts, welded constructions and moulded rubber parts.
Upon request, Temming GmbH & Co. KG will take over the complete dispatching for you: From order acceptance to the needs-based order from our manufacturers, the planning of production and logistics, the consignment warehouse, right up to the delivery of the end product "free domicile". We conscientiously ensure that the right quantity of your product arrives at the right time, at the right location.
Fairness, reliability, highest consulting quality, longevity and the best service have been elementary components of our corporate philosophy since Temming GmbH & Co. KG was founded. For our customers, this means: clear competitive advantages through excellent results in procurement!